Factory Studio – Import data from Excel (CSV)
The most common source of data to the digital entities created in Factory Studio are the integrated devices themselves, which send data to the Digital Entities.
However, a very common case is the need to import data from Excel. At the same time, this function helps bypass the need to initially import data from other software. However, it can also serve as an integration tool for the regular consolidation of company Excel files into the common data platform WorkSys.Space without the need for programming skills.
If the Digital Entity allows the import of external data, the Import data tab is taken in the device (Digital Entity) definition section.
The sequence of steps is very simple.
Step 1 – allows you to export an empty template of the future import file. Export is done as a CSV UTF-8 (comma-separated) (*.csv) file.
Then we open the file in the MS Excel application and leave all fields primarily as text during import.
Step 2 – fill the file with the necessary values in the MS Excel application. While filling in, we can fully use all Excel features, including formulas and so on.
The following rules must be observed:
do not use any thousands separator for numbers
use a dot "." for numbers. as a decimal separator
adhere to the date and time format for the timestamp field. (Therefore, during export, the system generates the current time in the correct format).
The data of the entire row will be saved at the date and time specified in the timestamp field.
After filling in the necessary data, the contents of the file are saved as CSV UTF-8 (separated by commas) (*.csv) and the file is ready for import.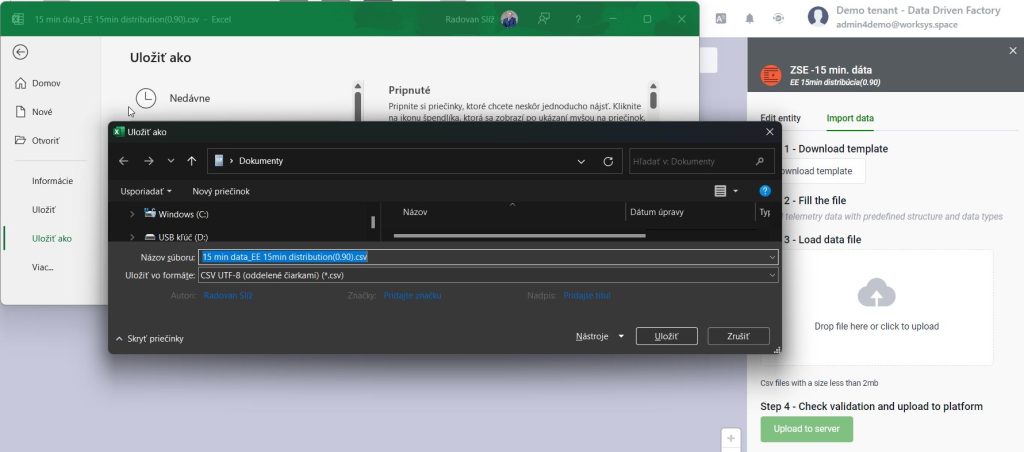 Step 3 – by dragging the file into the selected space, we upload the filled CSV file.
Step 4 – The system automatically checks the input data for the correct format and prints the statistics of the resulting checks. If you are satisfied with the checks, by pressing the Upload to server button, all valid data will be imported.